Quantum Mechanics I
Fall 2006
---
Good job, everybody! Have a nice break.
Solution to the take-home final posted
---
Quick links
---
Class Schedules

Instructor: Hitoshi Murayama

TA: Sourav K. Mandal

Reader: Yiping Ma
---
Prerequisites
137AB or equivalent
---
Course Outline
It more or less follows the first five chapters of Sakurai. In case any additional material is covered, I'll post lecture notes or relevant articles online.
Fundamental Concepts
Quantum Dynamics
Symmetry in Quantum Mechanics
Approximation Methods
---
Modern Quantum Mechanics, J. J. Sakurai, Addison and Wesley (1994). (required)
Quantum mechanics, by Albert Messiah, Amsterdam, North-Holland Pub. Co. (1961).
Quantum mechanics: non-relativistic theory, by L. D. Landau and E. M. Lifshitz, 3rd ed., rev. and enl., Oxford, New York, Pergamon Press (1977).
---
---
Homework and Exam Problems
---
Lecture Notes
---
Miscellaneous Notes
---
Useful Links
Online calculators of Clebsch-Gordan coefficients Java applet. Use it at your own risk.
---
Computing Issues
You will be using Mathematica to solve some of the problems. PANIC cluster has a license for more than ten processes, and socrates has an unlimited license. A student license can be purchased from The Scholar's Workstation at $134, a hefty discount for PCs and Macs from the regular academic price of $895.
To use Mathematica remotely on socrates or PANIC, you need an X-server software on your computer. On Windows, go to http://software.berkeley.edu/ and install Exceed. Click here for more detailed instructions by Adam Bryant, a 221A student back in Fall 2004. If you know of a better/updated method, let me know.
On Macs, you can install X11 from system disks (see instructions). Then login to socrates with an option

  % ssh -X username@socrates.berkeley.edu
  
to enable X11 forwarding over the secure channel.
On Linux and other Unix machines, X11 must be a part of the standard installation. Login to socrates the same way as on Macs.
Mathematica version 3.0 on socrates needs special fonts. Before you login, type

  % xset fp+ tcp/socrates.berkeley.edu:7100
  
in your X-windows software (e.g., Exceed or X11) to use the font server on socrates. Despite the warning on fonts (just click OK), it seems to work fine. Mathematica version 5.0 on PANIC does not require a particular setup on your end.

After logging in with X11 forwarding, type

  % mathematica &
  
to start a Mathematica session.
To print from Mathematica, probably the easiest is to install MathReader on your PC, scp or sftp your notebook file to your PC, open it with MathReader, and print it from there.

Another way is to use Mathematica on socrates, go to File menu and choose Print. A dialog box appears: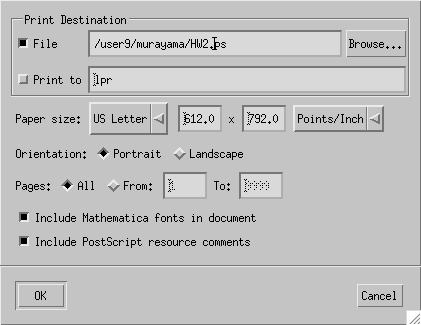 For Print Destination, choose File and specify the filename. Make sure that "Include Mathematica fonts in document" is chosen. Click OK and the notebook is saved as a postscript file. A postscript file can be previewed with
% gv xxx.ps
To print it from your PC, convert it to a PDF file with
% ps2pdf xxx.ps
and then scp or sftp the file xxx.pdf to your hard drive, open it with Acrobat Reader, and then print. To print only the graphics (or just one cell in general), choose the cell by clicking the blue square bracket on the right, go to File menu → Save Selection As → EPS → give a filename xxx.ps, and the rest is the same.
Daniel Larson, my former student and currently a lecturer at Harvard, wrote a sample notebook to get you started with Mathematica. You are not required to use Mathematica in this course, but I will post solution sets in Mathematica notebooks and design problems assuming you will be using Mathematica. I suspect Maple would do probably fine. I am less sure with Matlab, especially in the area of algebra. Share your stories with us!
---
Important Information
I do not plan to distribute copies of syllabus, homework problems, solutions, lecture notes, etc, to save money and trees.
You can access most of the journal articles through UC Berkeley electronic subscription from berkeley.edu domain, or from any other domains through the proxy server of the UC Berkeley Library. See instructions to use the proxy server. You need a valid CalNet ID.
You are encouraged to work with your friends on homework. But you have to work on your exam on your own.
I don't have a strong opinion between in-class and take-home exams. I let you vote. Unlike homework, you have to work by yourself on exams. Each exam counts as two homework in the final grade.
---